Relive the milestones of LAVENDER RING MAKEUP & PHOTOS WITH SMLES through this book.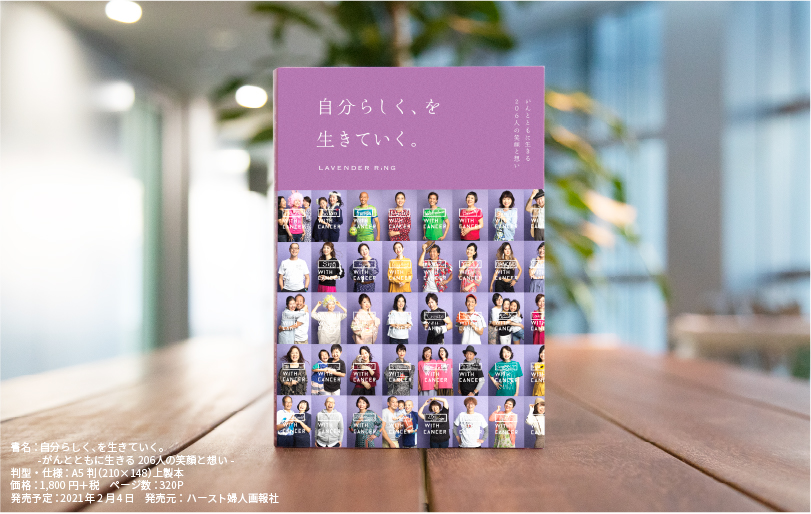 LAVENDER RING Photo Book: Smiles and Messages from 206 People Living with Cancer features poster portraits and interviews with participants in MAKEUP & PHOTOS WITH SMILES. The photos of their smiles paired with hand-written declarations of their passions offer personal reflections after developing the disease. Their stories encourage everyone who reads them, beyond people living with cancer, their families, and supporters. The book was published on World Cancer Day, February 4, 2021.

A portion of the proceeds goes to CancerNet Japan for future LAVENDER RING and other activities.
Also available in an e-book!
Visit the websites to purchase and download your copy.
I don't think anyone living with cancer is unaffected by it. Treatment is testing, and the diagnosis alone takes a heavy toll on their mind.
Despite that, these patients have beautiful smiles. This book inspires courage and hope in everyone, living with cancer or not.
Noriyuki Katsumata, MD, Department of Medical Oncology,
Nippon Medical School Musashikosugi Hospital
You don't know any of the people, but you are curious to know their stories. This book offers a fascinating glimpse at 206 lives. They must have been sad, angry, and questioning, "why me?" but their smiles do not show any negative feelings. The photos show cancer does not mean death. This book challenges the prevalent image in society.
Katsushi Hosaka, Writer and Winner of the Akutagawa Prize
The book showed me there are so many survivors. There is so much we can do and understand because we have cancer.
Person living with cancer, 50s